Five generations of experience
A unique heritage and more than five generations of experience making the finest clocks and barometers in England.
1850
Onarato Comitti travelled to London from the Lake Como area of northern Italy. He was a skilled instrument maker with a heritage that can be traced back to Evangelista Torricelli, a student of Galileo, who made the first mercurial barometer in 1643. He sought his fortune in the most advanced industrial nation in the world and established his workshops in Clerkenwell, the centre for instrument and clock making in London.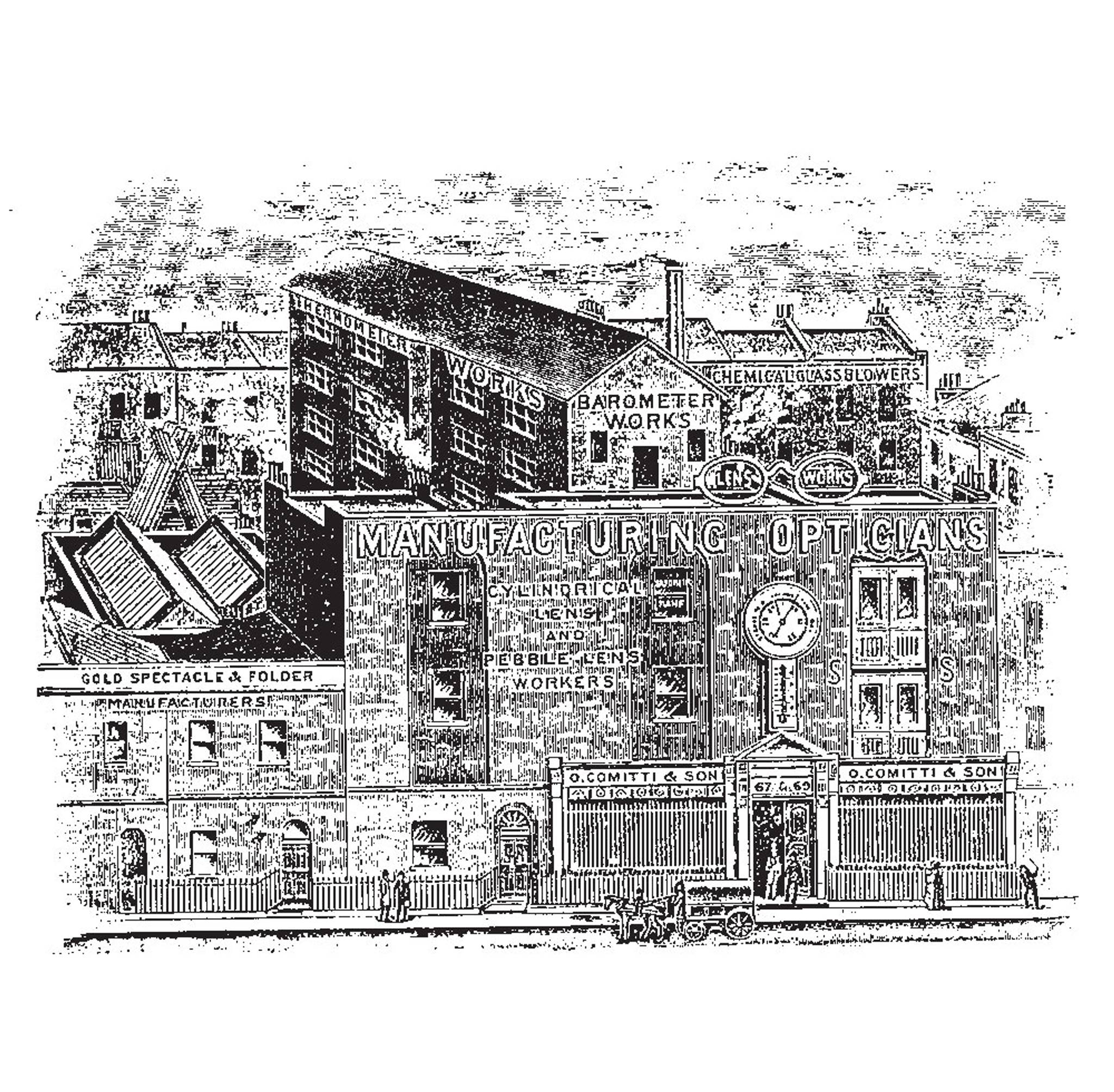 1888
Onarato Comitti received the Diploma D'Onore for the quality of his workmanship from the Exposizione Italianna Londra. Onarato's son Luigi became chairman and Comitti was registered as a Limited Company at Companies House in 1897.
1899
Comitti published a broadsheet showing registered patents and a comprehensive collection of mercury and aneroid weather instruments. Barometers for marine use, Admirals Fitzroy's instruments designed for recording data across the Britain for coastal and national forecasting, Fortin barometers for scientific research, Pocket Aneroid for altitude measurement, the companies Improved Torricelli Barometer, sophisticated Royal Polytechnic Barometers recording Barographs and mantel barometers including timepiece movements.
1903
The Barker family takes control of the company after George Barker married Luigi Comitti's daughter and becomes a Director in 1903. He is appointed chairman and steers the company through the difficulties of WW1 and introduces a new collection of clocks.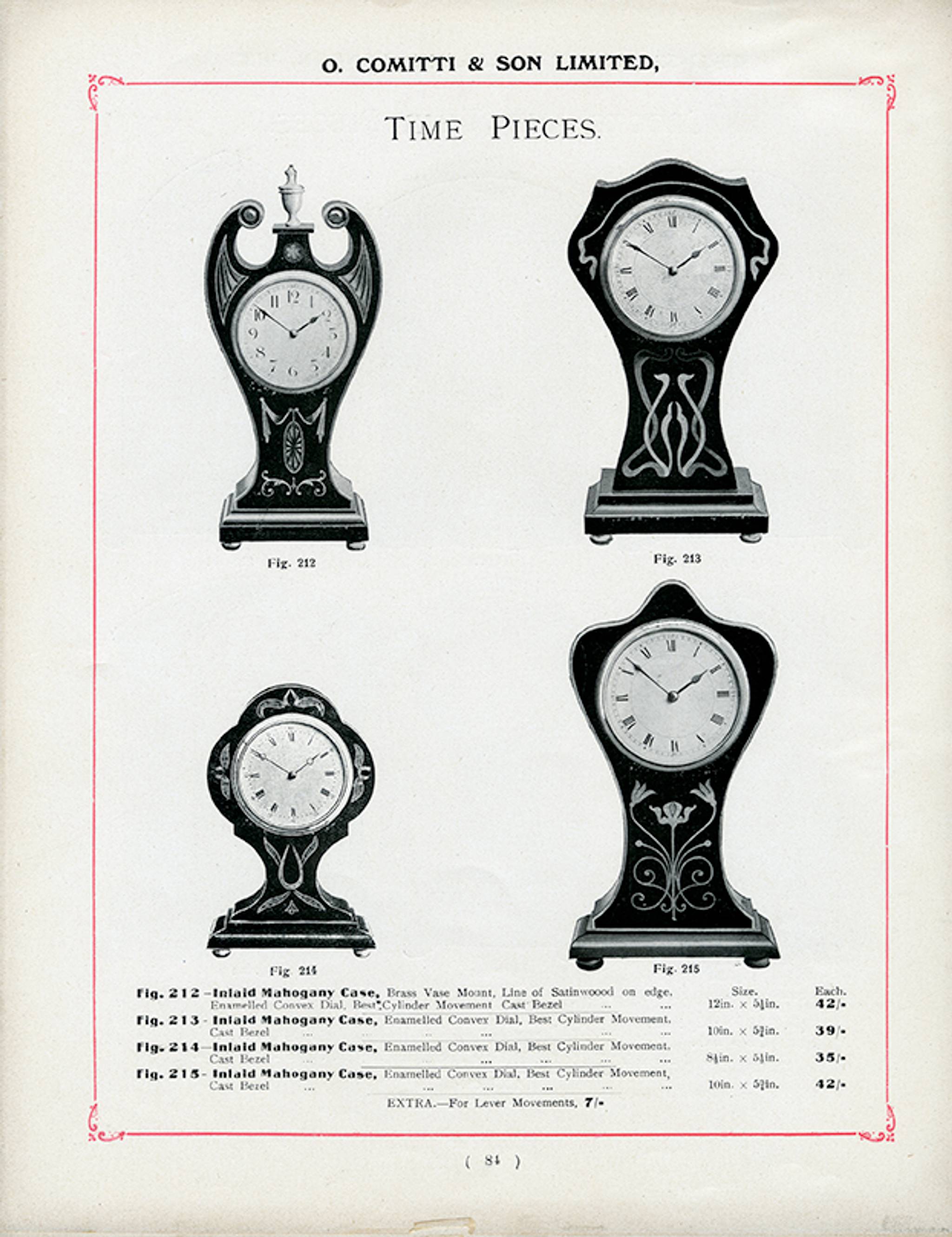 1946
George's son, Ronald James Barker, becomes a Director of the company following his service as a tank commander in WW2 in the North African Campaign.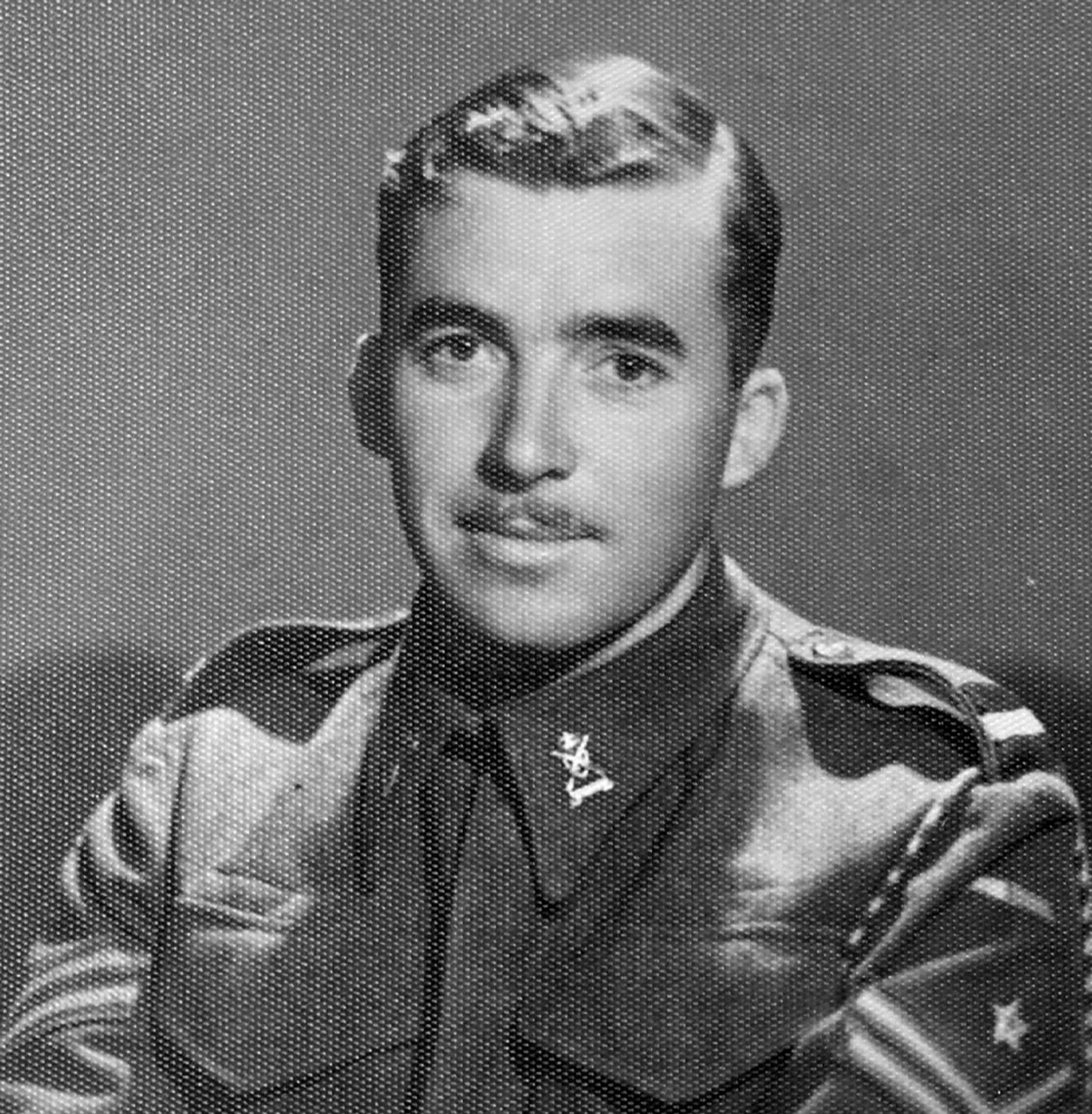 1981
In 1981 Comitti was commissioned to make a royal wedding barometer to mark the occasion of the marriage of the Prince of Wales to Lady Diana Spencer and Ronald Barker retires. In 1983 his sons take control of the company and in response to growing demand re-locate the business to Walthamstow in East London
1990
Comitti is recognised as the UK's leading maker of classic English clocks and barometers. The new collections included longcase, wall and table clocks as well as specialist commemorative timepieces. The company is presented with the UK Jewellery Awards as a Luxury Objects finalist for our inlayed floor clock, a piece that reflects the superb workmanship of 17th century makers.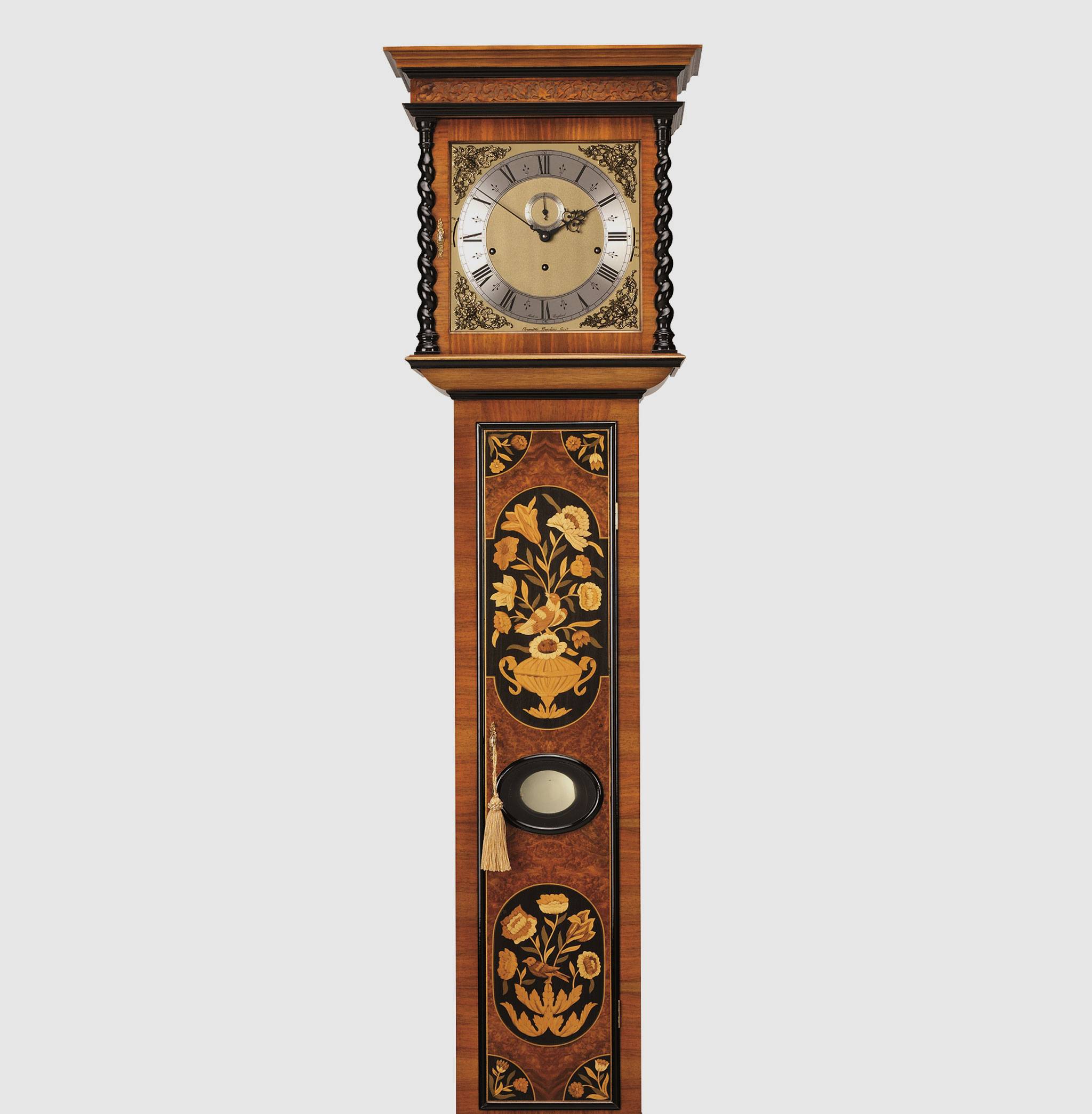 2002
Comitti offer for the first time its flagship model, a unique version of John Harrison's Sea clock, the Navigator. In response to growing competition for overseas the company changes its business model, focusing on aspirational quality and bespoke finishes and in 2007 re-locates its workshops to Ongar, Essex to facilitate that new direction.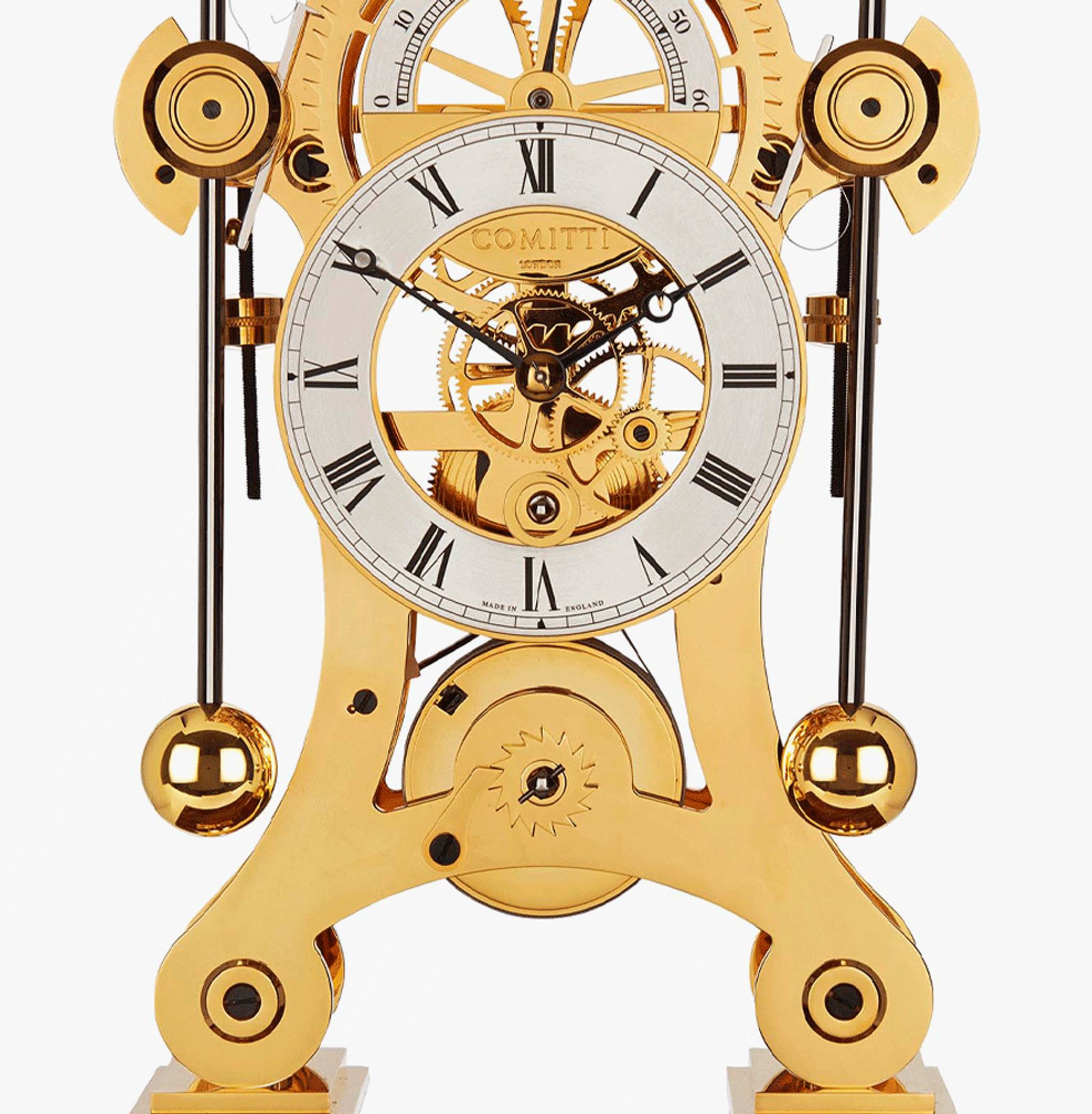 2012
A special version of the Royal Greenwich Regulator is presented to Her Majesty Queen Elizabeth 11 on the occasion of Her Diamond Jubilee and is now part of the world famous clock collection at Buckingham Palace.
2013
Comitti launches the Meridian Co-Axial Table Clock. A world first and unique contribution to the story of the British Clockmaker at Baselworld in Switzerland
170 years of english barometer and clockmaking
More than 170 years later, Comitti is still a family-owned business, run by the fifth generation, which remains true to the founding principles of Onorato Comitti and continues to maintain the company's international reputation for luxury timepieces in the finest traditions of English clock making.
The arts of
comitti
There are various different processes that come together to make each unique piece. Click on each process below to see more detail around the arts of Comitti.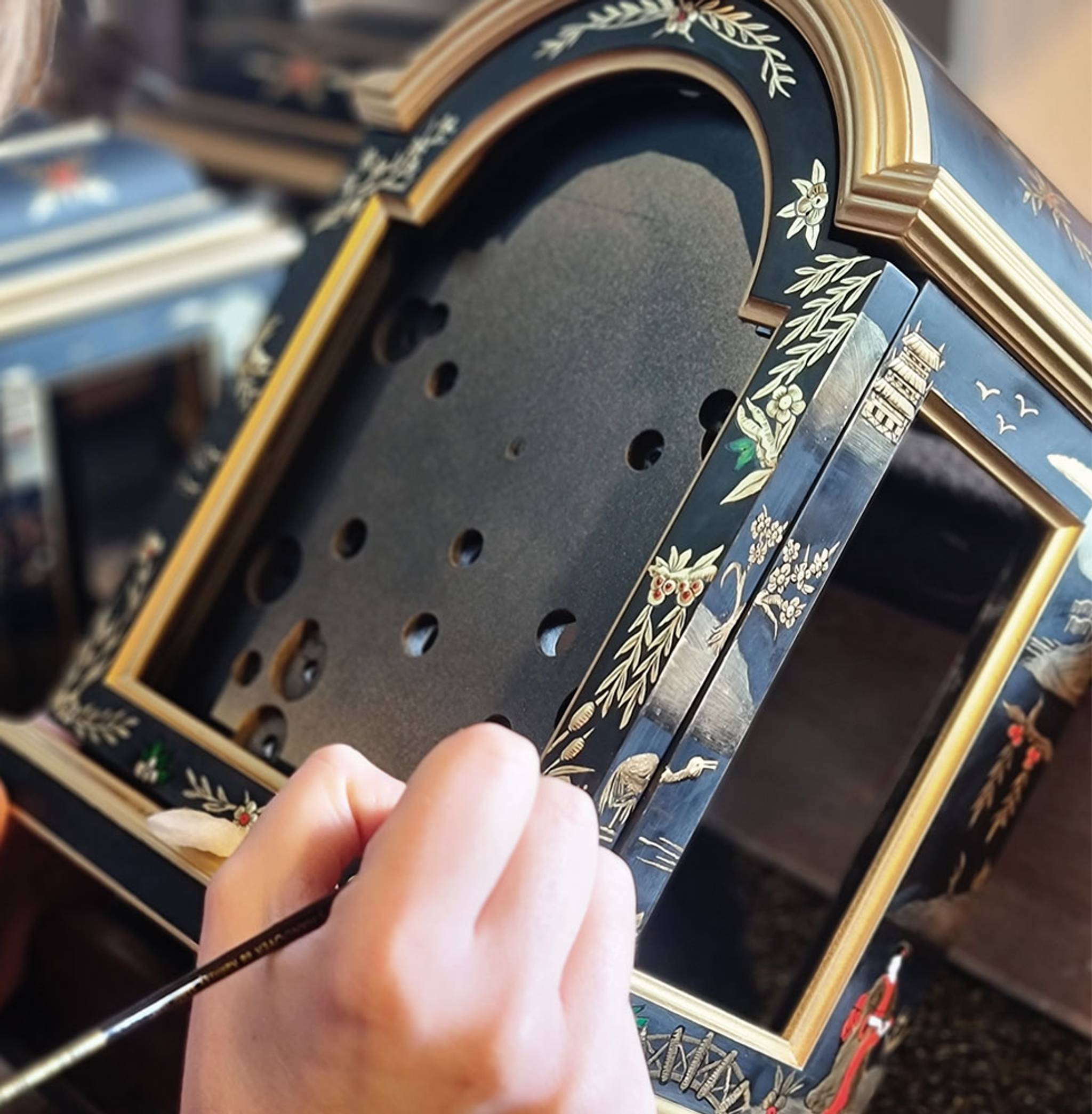 Chinoiserie
In 18th Century London the fashionable set embraced a new art form called Chinoiserie, a romantic interpretation of Orient painted onto lacquered furnishings. The finest cabinet makers of the day fell under the spell of this art form that was sought after to add glamour and sophistication to the home. Comitti's Chinoiserie clock cabinets have five coats of black lacquered applied to fill the grain. Gesso is used to create the raised areas that are sized so that the gold leaf can be applied. The artist completes the artwork and uses gold lacquer and powders do the line-work and shading. Finally, the artwork is sealed using acrylic lacquer and burnished to achieve a high gloss finish. Our traditional artwork depicts scenes with courtiers at play in mythical lands and our more contemporary pieces show wild animals in a natural setting.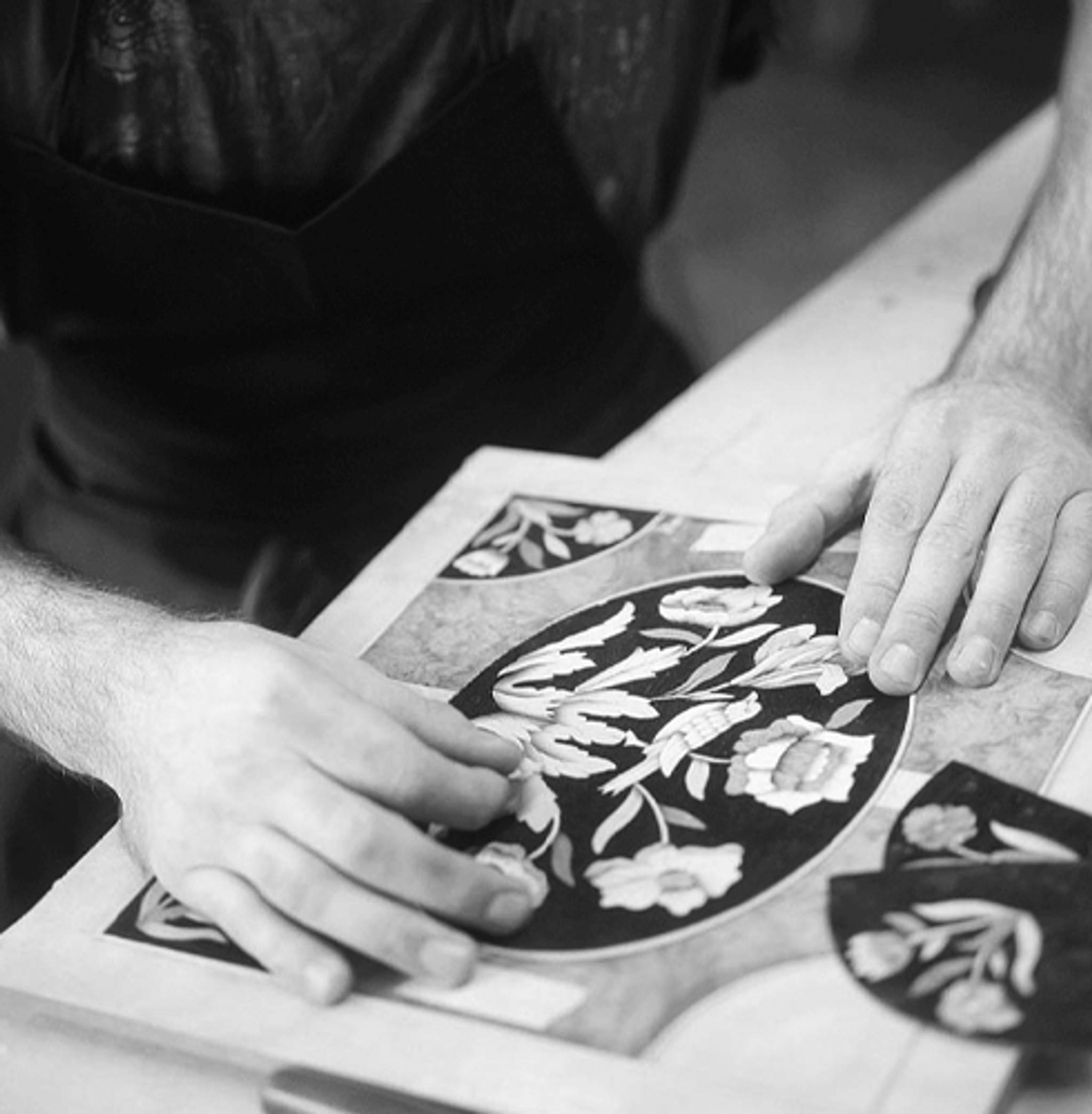 Marquetry
Marquetry is an art form that can be traced back to early Egyptian and Assyrian craftsmen and is essentially decoration achieved by creating patterns or pictures from wood veneers. The craft reached the status of high art through royal patronage in France in the 17th Century. The arrival of William of Orange and his Court in 1689 established the fashion for this highly decorative craft in England. For the first time furnishings for the home became aspirational, driven by fashion and the highest standards of design. Comitti's craftsmen continue to produce marquetry to these high standards using traditional techniques and fine and rare woods. The time taken to create these intricate panels is measured in days and every piece is unique.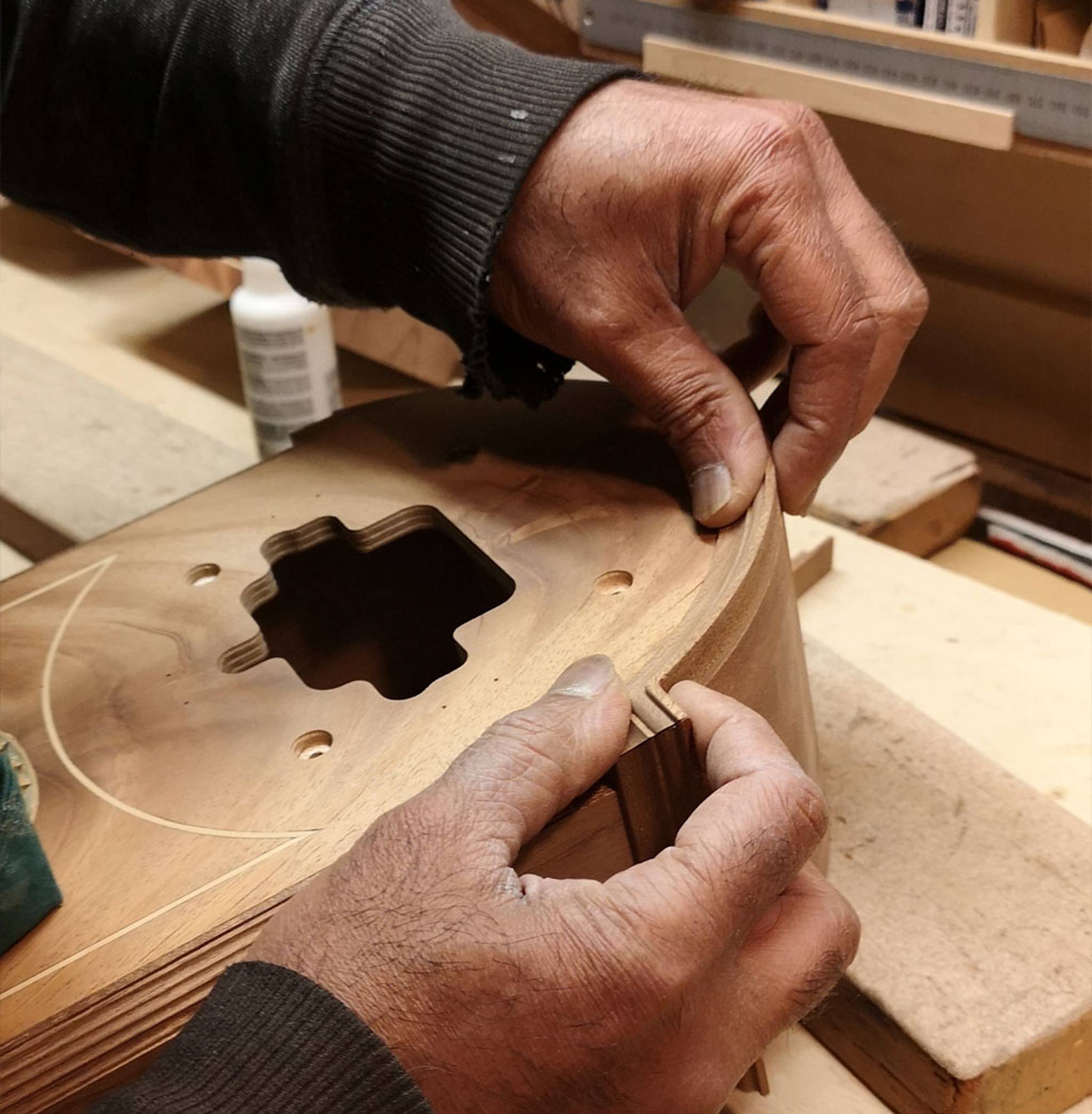 Cabinet Making
Georgian architecture inspired England's greatest furniture designers, Thomas Sheraton, George Hepplewhite, and Thomas Chippendale. Under their influence master cabinetmakers used exotic woods sourced from around the world and employed the decorative skills of veneer cutters and marquetry makers to create fine furniture and clock cabinets. These skills are reflected in the traditional and contemporary cabinets designed and made Comitti to this day. Quality seasoned hardwoods and exquisite veneers are selected for their natural beauty. Veneers are cut and matched, inlaid with marquetry and laid by hand so that each piece is unique. The final pieces are hand polished to enhance the natural beauty of the cabinetwork. The final coats of lacquer are rubbed with beeswax to achieve a rich natural patina.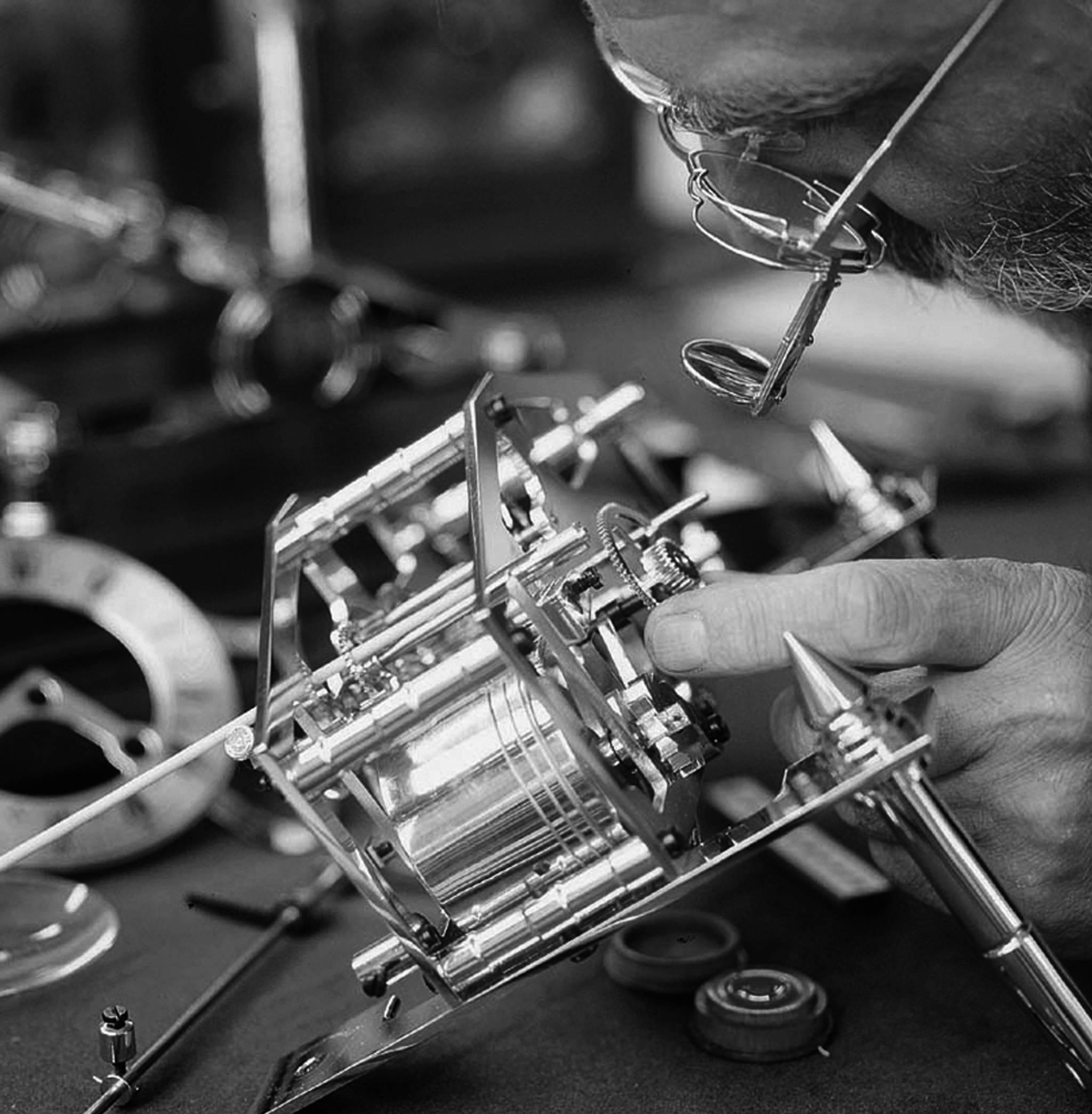 Movement Making
Georgian London was a centre of horological excellence when the industry was at the cutting edge of science and technology. The innovations of master horologists such as George Graham, Thomas Tompion and John Harrison established a technical lead in Britain that was to remain virtually unchallenged throughout the 18th and 19th centuries. The basic principles established at that time remain unchanged although technology has improved design and construction. Comitti draws on this unique heritage to re-create unique movements such as the Grasshopper that are finished and assembled entirely by hand. The gear trains are cut from solid brass and then fettled and polished by hand. All the parts are gold or rhodium plated to achieve a perfect finish that will retain its lustre. The pivots are burnished, and the pivot holes reamed to minimise wear and improve accuracy. In the assembly process specialist oils and greases are applied to the pivots and bearings to establish the perfect running of the motion work.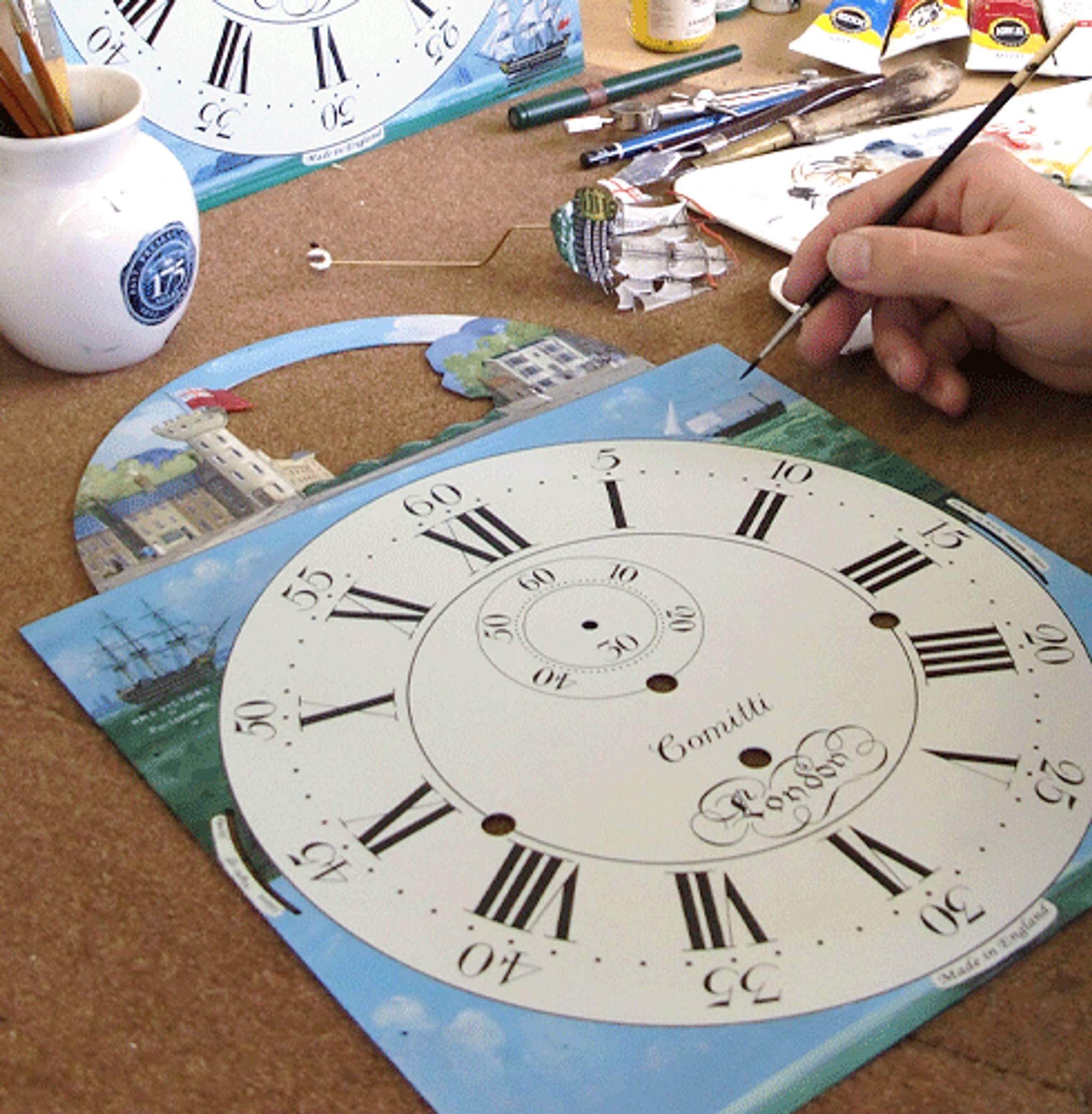 japanning
Dial painting, or japanning, is typically reserved for fine grandfather clocks. The technique became very popular in the 19th Century and early examples can be recognised by the simplicity of the designs and use of floral motifs, shells, and geometric patterns. Local scenes and historic events became fashionable later in the century and greatly enhanced the decorative appeal of grandfather clocks. Comitti's artists continue to create painted dials using traditional methods and techniques. The dial plate is given an enamel finish that is screen printed with the numerals before the artist, using acrylic paints and fine brushes, adds the detail in the corners, arch and moon phase or automata. Each dial is unique and signed by the artist.
meet the makers
The enduring appeal of traditional English clocks and barometers can be attributed to the diversity of the finest craft skills required to make them. A visit to Comitti's workshops reveals a team of dedicated artisans working with equal amounts of skill and inspiration.


Chris Atkinson
Clockmaker & Restorer
Chris trained as a clock and watch maker and began work with Omega Watches in Hatton Garden in 1975. He discovered he had a passion for antique clocks and became particularly interested in fine clock movements. In 1990 he became a member of the British Horological Institute.
He has acquired over 40 years of instrument making, engineering and clockmaking experience and became part of the Comitti team in 2005. He is responsible for building the Navigator and the other specialist movements. He also works in the service and restoration department.
He recently played a significant part in the film about the making of the Navigator timepiece featured in the Made in Britain program for television.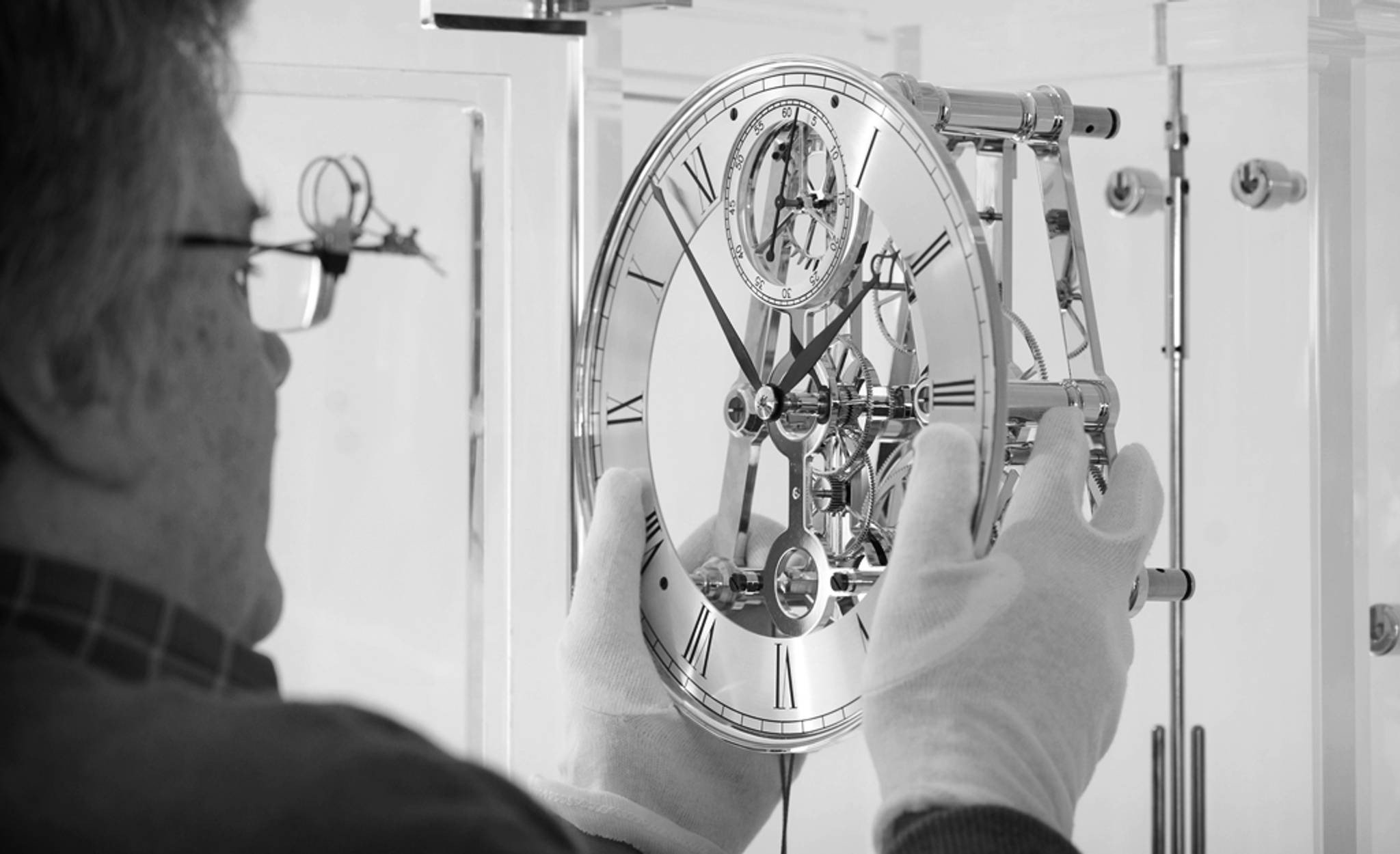 Edmund Barker
Cabinet maker & machinist
Edmund studied Fine Art at the University of the West of England. After graduation he determined that his passion was furniture design and construction and he enrolled at the Building Crafts College to build his technical skills. He was then invited to serve an apprenticeship at the famous Edward Barnsley Workshop in Hampshire.
Having completed his training, he joined Comitti in 2015 to head up the wood workshop and is responsible for cabinet design and development, the machine shop, finishing and polishing. He is passionate about bringing contemporary ideas and design to take the company forward.
Anwar Caunhye
Cabinetmaker & finisher
Anwar began his career in woodworking at the age of 14 when joined a 5-year apprenticeship scheme cabinetmaking in Mauritius. He then built his own company at the age of 20, making a respectable name for himself and building a clientele for his renowned bespoke furniture. He has had a passion for working with wood his whole life.
He started working with Comitti in 1999 and has dedicated 22 years to the company. During this time, he has had the opportunity to develop his skills that now include marquetry, carving and polishing. He takes pride in his craftsmanship and is meticulous in his attention to detail. He recognises that people will always value fine workmanship and that a clock made by company will be valued by future generations.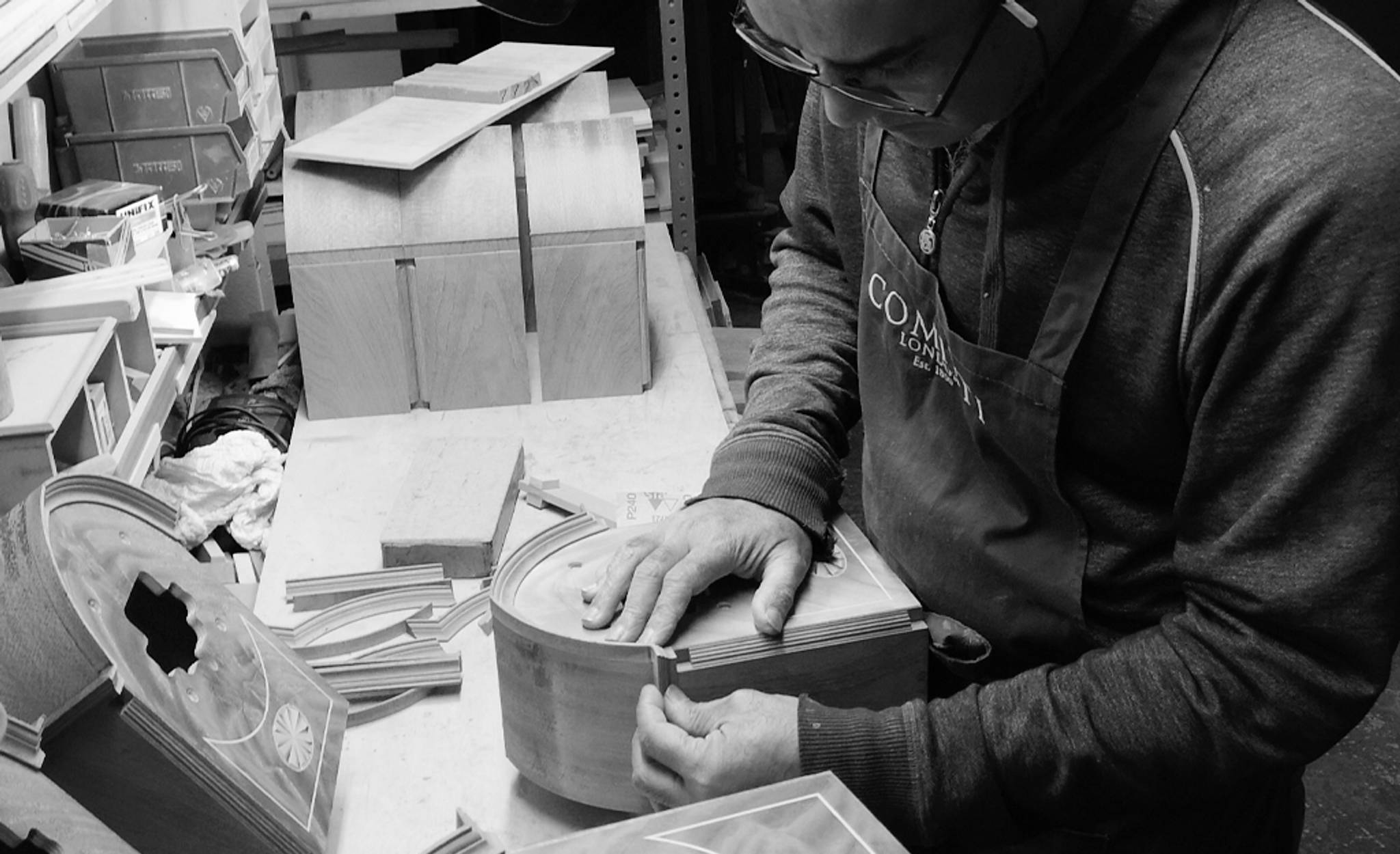 Bella Chipperfield
Chinoiserie Artist
Bella realised she has a passion for art at an early age and after school she did an Art Foundation Degree at Cambridge Regional College. After completing Music Hons degree at Royal Holloway University of London she become an art therapist, combining teaching, and working as a freelance artist.
Bella has been working as a professional artist for over 10 years specialising in portraiture, and illustration. In 2018 she became interested in Chinoiserie and completed a course in this unique artform under the supervision Alex Schouvaloff, an authority on Japanning and Gilding who graduated from the London Guildhall University, as a foundation to working with Comitti.
Philip Halsted
Clock designer & maker
From a very early age Philip was a budding engineer, building his first clock at the age of twelve. He spent many hours in the home workshop of his father, who was a professional engineer by day and a keen clock maker in his spare time. Supervised by his father, the finished clock was the first to carry the name of W Halsted & Son.
At sixteen he started an apprenticeship as a scientific instrument maker at London University. After qualifying he set up his clock making business and worked with several British clock retailers, designing both limited edition and bespoke timepieces. Philip began designing and making prototype clocks for Comitti in 2008. These include the Greenwich, the Meridian, and the York. Philip is also a member of the Worshipful Company of Clockmakers, a City of London Livery Company.
Tim Pemble
Engineer & clockmaker
Tim had an interest in how things are made from a young age and after school he became an apprentice toolmaker and studied engineering part time for 6 years.
His work experience includes making machine tools for making plastic moulding and extrusions, electro-acoustic devices, military optics and clockmaking.
Tim is an Incorporated Engineer and a member of the Institute of Engineering and Technology. He joined Comitti in 1996 working on instrument assembly, clock making, inspection and testing.
David Samuels
Machinist & Instrument Assembly
David left school at 16 and joined an apprenticeship scheme at a local firm in East London. He served 3 years developing his skills in carpentry and joinery and achieved his City and Guilds qualification.
He worked at a shopfitting company for a further 7 years and joined Comitti in 1993 as a cabinetmaker.
David's enthusiasm, attention to detail and interest in the diverse skills employed at the company has meant he has been encouraged to progress and develop his expertise in wood machining, polishing and clock assembly.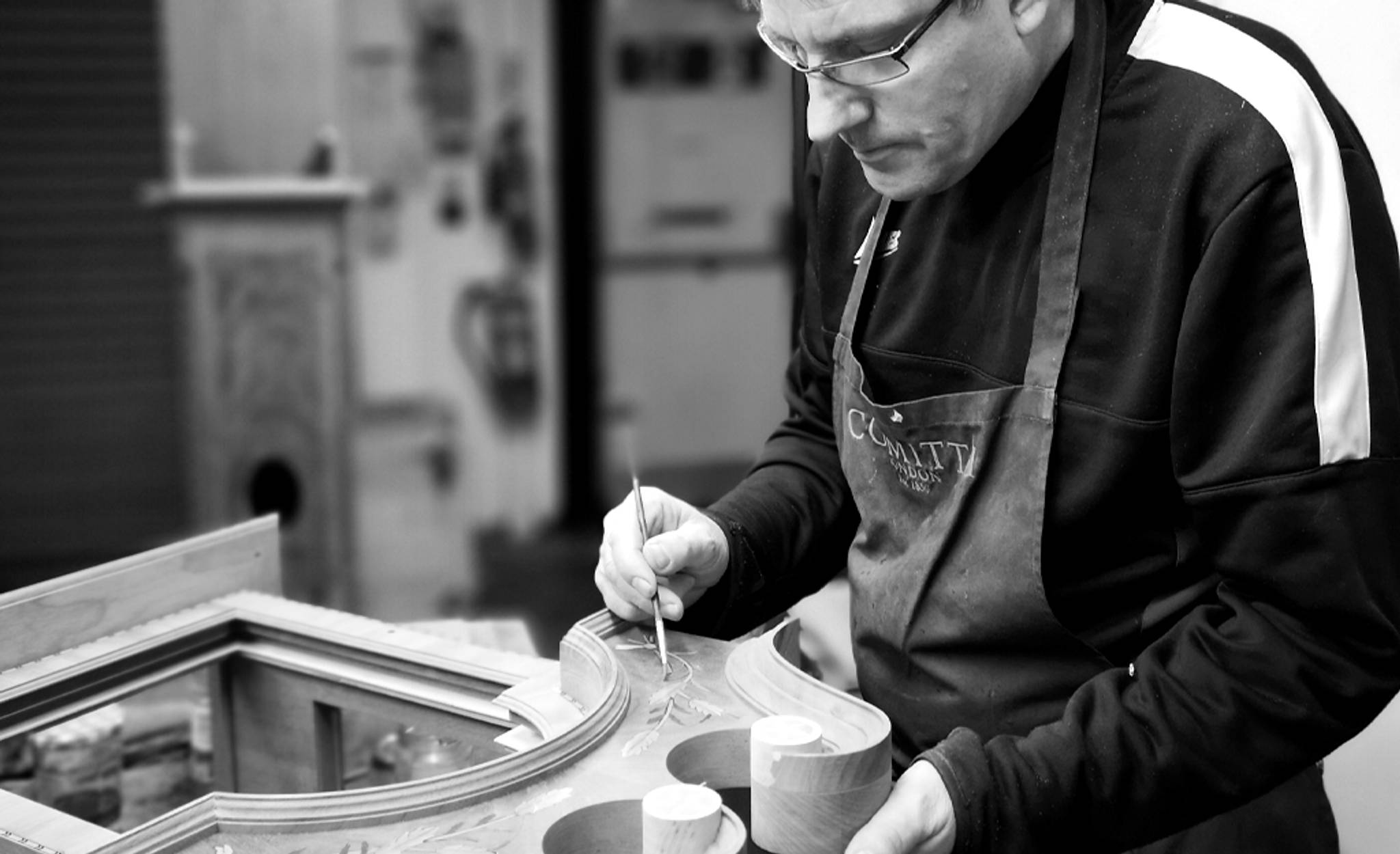 a passionate team here to help at every stage
Comitti harnesses traditional craftsmanship and the finest materials to create stunning traditional and contemporary time pieces. If you would like to receive more information about the features of the pieces we offer and bespoke finishes, please get in touch.